Continuous improvement of Office Management with the PDCA method
Office managers, you carry out several procedures on a daily basis and not without noticing that many of them can be improved. So, at times you rant and ask to change the procedures, to improve them and gain efficiency (while you're at it, avoid leaving the office at 9 pm). This is already the first step towards continuous improvement. But if you want to improve the performance of your organization and its process in a sustainable manner, you'll need to be methodical. Indeed, you very well know that the problematics and demanding aspects keep increasing all the time, nothing stays the same! This is how you can use a formidable method, namely PDCA (no, this isn't a new drug, it means Plan Do Check Act).
Here's a representation of the PDCA method, with the so-called « Deming » wheel.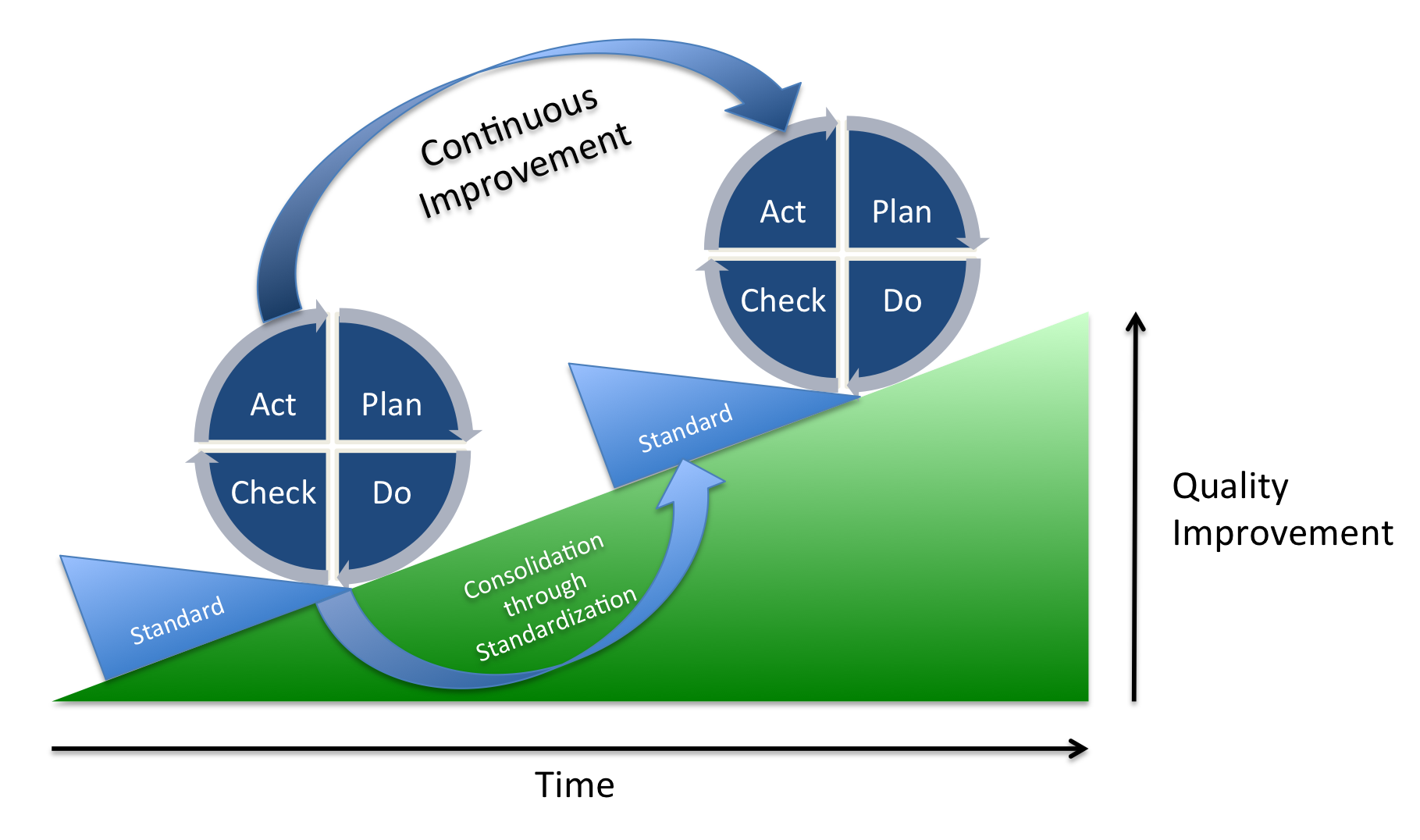 With this method, you'll be able to identify the causes of an issue, in your organization, bring about efficient change, monitor results then standardize the efforts to improve.
Let's view the various steps of the method together. For this, let's take a recurrent issue for Office Managers: paying suppliers. Michael has just called you for the 3rd time in the week, to ask you to pay the latter's invoice. Though, it's not your fault if this invoice hasn't been paid. But this person won't listen to you and deep down, he is certainly right. You're tired of hearing this supplier bellow and you think it's a good idea to improve the payment procedure, firstly, to maintain a good relationship with your suppliers but mainly to preserve your auditory well-being.
1. P like Plan
Define the problem you need to handle and look for the root causes, in order to define a course of action to remedy this. Here, the problem is that Michael hasn't been paid on time and you're the one who needs to initiate the payment. So why didn't you do so? Simply because you didn't receive the bill. Indeed, Helen, the commercial director receives the bills from this supplier. But her days are busy, just like yours, she forgot to pass on the invoice to you, so you couldn't make the payment. Suffice to say, that dear Michael could have waited ages.
There might be a simpler way to handle this. Yes, you guessed it. It'll be simpler if Michael sent you the invoices directly, instead of passing through Helen. Logical, but one should've thought of this.
2. D like DO
Now that you have found the solution to the problem, you'll need to implement this solution. Just this once, you call Michael. You ask him to henceforth send you the object of crime directly: his invoices. You're surprised to notice that he is not always aggressive: in fact, he is extremely meek as he is indisputably advantaged by this procedure: he'll be paid much more quickly. Therefore, he'll ensure you with pleasure, that he'll send you the invoices directly.
3. C like Check
During this step, once checks the impact and efficiency of the implemented measures. Have they eliminated or reduced the issue? Theoretically yes, since Michael only calls to thank you for having quickly made his payments, you gave up the idea of blocking his number. So, you'll notice, not without emotion, that the new payment method for Michael's invoices is rewarding and the initial problem has been solved.
4. A like Act
You're on the verge of shedding a tear, but you notice that you're coming across the same problem with another supplier. This is where the "Act" Step comes along. Once you have determined the efficient solution to tackle a given problem, you'll need to standardize the method and apply to the entire organization. The implemented solution needs to put down roots in the company's methods and be documented within the teams. To do so, you'll never hear this enough, for god's sake, use wikis.
Everything has been solved and your boss congratulates you for the efficiency with which, you resolved the issue (perhaps ask for a raise while you're at it). But everything was too good to be true, Michael calls you again yelling, claiming that he can't connect to his supplier space on your website. You are no longer unarmed, while confronted with his irritation, as you know the attitude to adopt, to handle his problem! You head towards "P like Plan" and turn this famous Deming wheel, with some elegance. Continuous improvement is just wonderful.
More informations here
50 unique ways of rewarding your collaborators and making them happy