The best Slack applications for Office Managers
Office Manager, do you use Slack everyday, to easily communicate with your collaborators? If this isn't the case, we can only advise you to do so. Slack is a collaborative tool, which is very active in companies today. It allows to chat among users and share documents. But did you know that several applications are part of Slack to make your Office Manager life easier, on a daily basis?
A small review of our best Slack application selections for Office Managers
GoCo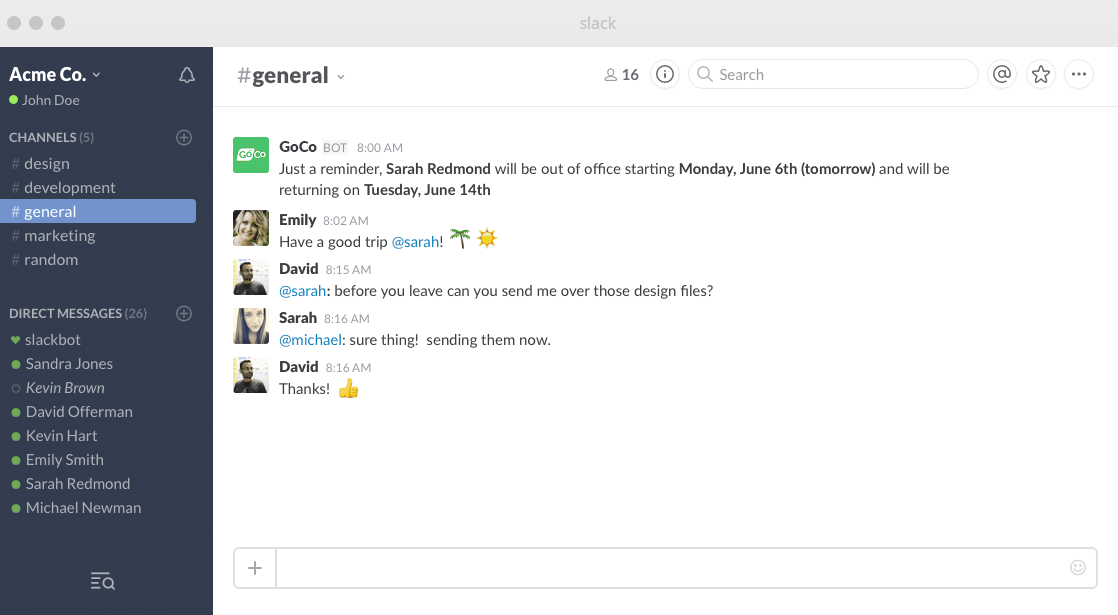 Do you need a reminder for the holiday dates of your collaborators? GoCo is the application you need. GoCo allows collaborators to make holiday date requests, directly on Slack. You and your team of collaborators, will receive a reminder the day before the holiday day, so that you can get things organized, before one leaves! You can also set the obligatory holiday dates (long weekends, bank holidays, etc.…) so that the teams can receive reminders and avoid turning up at a closed gate, after a one and half hour ride in the subway. Little bonus: you can also receive birthday reminders: no need to add your colleagues on Facebook (and while you're at it, get stuck with the photos of their newborn) to receive reminders!
X. ai meeting scheduling
Can't be bothered to plan meetings? Find a schedule which suits everyone, send invitations etc.…? Use x. ai meeting scheduling. All you need to do is tag the participant, time and place on Slack and the application finds a suitable time and sends invitations
X. ai meeting scheduling is available here
Lunchorder
Do you need to place grouped orders for lunch meals? The unlucky one in charge of going and getting the order at the local pizzeria and hell of a challenge, getting orders from all the collaborators? Lunchorder sends notifications to all users of a Slack group with the chosen restaurant and a deadline to place the order. The application then sends a list of all the orders from collaborators, to avoid going around the office with a post-it in hand and waiting 10 minutes in front of Michael's office, who is hesitating between a Pepperoni Pizza and New England Greek Style Pizza, worse than if he was buying an apartment.
Leo (Officevibe Bot)
After having watched a journalistic documentary Sunday evening, which addressed the theme of satisfaction at work, your boss shows up in the open space on Monday morning and asks you to implement satisfaction surveys at once, internally. Clearly, you have better things to do. No worries. Leo is here for you. Leo helps you test the water and see if your collaborators are satisfied via Slack. The survey is anonymous: your collaborators can even lay into their managers, shamelessly! Though, the aim is to build better confidence among teams and better relations, for which Leo sends you feedbacks along with the actions to implement.
Nikabot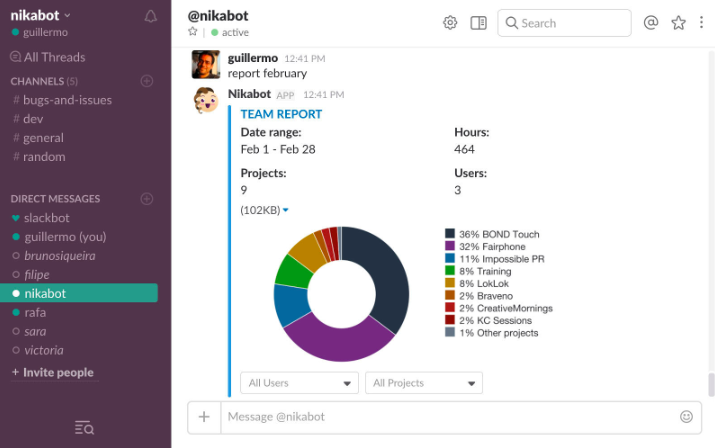 « So, what did you do today?" Your boss asks you this question almost every evening. You've done so many things that you can't really remember, and you stick to mumbling a response, which isn't really convincing. Afterwards, you realize you've done so many things and it's a pity you didn't tell your boss. Nikabot is the solution. The application asks you what you're doing, while you're connected to Slack and how long it took you. You can also use this within teams. Nikabot then creates reports with the activity on a per day and per project basis. Out with the hot flush when your boss asks you what you did, you can show him this in detail, in fact it could be an argument when you negotiate your next raise.
Secret Santa
If you didn't know yet, Christmas is just around the corner. You and your colleagues thought, it'll be good to do a random draw, where each collaborator is assigned a colleague, for whom he or she needs to buy a gift. Last year, you already did this random draw, with little papers in a cardboard box, but in the end there was cheating, and Vicky was the last to choose and she wasn't happy about being forced to offer a gift to Valerie while Valerie can't stand the latter. So, she offered a Tea box set to Valerie while Vicky knows very well that Valerie hates tea, so Valerie left by making a face and saying that in any case Christmas has turned into a commercial celebration and Vicky showed a scornful yet satisfied look after this little farce, in short A NASTY ATMOSPHERE. To do this random draw and easily choose who offers a gift to whom, use Secret Santa. Simply select all the people taking part in this operation, and Secret Santa takes care of the random draw and remains impartial and is in charge of notifying the people through private messages.
Secret Santa is available here
More informations here
14 ideas to make your company more eco-friendly